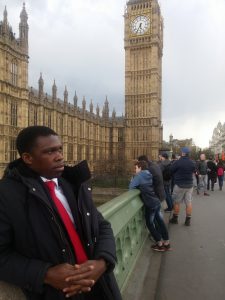 George came to SkyWay for a Research Placement during May and June 2016 through the London Youth Defining Success programme. He worked alongside the Quality Coordinator to develop the SkyWay Transitional Futures Theory of Change and Evaluation Plan.
How did you become involved in SkyWay?
I work for another organisation, London Youth, and I research and review literature works on youth clubs which could then be used by SkyWay.
Tell us an interesting fact about you
I have won two scholarships, post grad and college.
Which young person/people have inspired you?
Mostly when I see younger kids doing activities such as football, it inspires me.
What is your earliest memory?
Playing football for my primary school. I played sixth position.
What would you tell your younger self?
Keep wishing, pushing and aim higher even with all the challenges you are facing.
What's the best thing about Hackney?
I do not know much about Hackney, I moved here two weeks ago but so far I like it. I think is a very cool place!
What meal would you share with a young person?
A Ghanaian traditional meal, Fufu. Fufu is made from cassava, cocoyam and plantain and is generally served with a soups, stews and sauces.
How would you like to be remembered?
Someone who helped others and did everything that I could.
What have you learnt from young people?
They are very smart. They make it seem that everything is possible. A young's person mentality makes me want to push myself.
Thanks, George!
This SkyWay Scoop was written by Arantza Yuja, SkyWay's IES intern!